Image
The Graduate Program in Anthropology at the University of Virginia prepares students for careers in teaching, research, and applied work in the fields of Socio-Cultural Anthropology, Archaeology, and Linguistic Anthropology. We are a small, selective program that admits about six PhD and up to six MA students each year across the three sub-disciplines.  The department is known for its warmth, collegiality, and supportiveness, where classes are small, students work closely with faculty as well as peers, and students are encouraged to take courses in other disciplines.  Regular workshops prepare students for proposal and grant writing, teaching, professional presentations, and job searches, and each sub-discipline supports faculty-graduate student research workshops.  The Department also sponsors a Colloquium Series that brings everyone together for Friday afternoon lectures by University and visiting speakers.
We pride ourselves on the following emphases:
Studies in theory that give students a broad view of the field of Anthropology;
Integration of theory and ethnographic research;
Collaboration and inspiration across the three sub-disciplines of Socio-Cultural Anthropology, Archaeology, and Linguistic Anthropology;
Training in grant writing;
Mentoring for intensive field research;
Training and experience in teaching; and
Mentoring for job placement.
We also take inter-disciplinarity very seriously and pride ourselves on our many and strong ties to other University departments and programs, including affiliated faculty in such diverse units as: African and African-American Studies, English, Environmental Sciences, History, Media Studies, The Department of Middle Eastern and South Asian Languages and Cultures, Linguistics, The Department of East Asian Languages and Cultures, Music, Religious Studies, The Department for Studies in Women and Gender, The Program in Latin American Studies, and many others.
We invite you to explore the links below to find out more about our curriculum and community.  If you have questions please contact our Director of Graduate Studies or our Director of Graduate Admissions.
The PhD Program
Image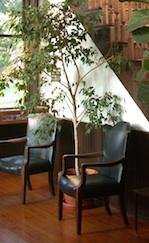 The PhD program in Anthropology at the University of Virginia is designed to lead students from a common and broad acquaintance with fundamental issues of anthropological theory to their own individually tailored agenda of original scholarly research and writing. The accent throughout is on preparation to make a valuable contribution to knowledge through field research, analysis, and writing.
For information on the specific requirements of the PhD program in Anthropology at the University of Virginia, please visit:
For more information on the program contact the Director of Graduate Studies.
The MA Program
The University of Virginia offers the following three pathways to an MA Degree in Anthropology:
Stand-alone Masters,
En-route Masters (part of the PhD program), and
Masters Promotion (for undergraduate majors wishing to combine their BA with an MA).
The Stand-Alone Masters in Anthropology
A stand-alone MA in Anthropology from the University of Virginia requires 24 credits of graded coursework, satisfaction of our Language Requirement, and completion of either a Comprehensive Exam or one Critical Review Essay.  In most cases students take 3 semesters to complete our stand-alone MA program. It is possible to pursue the stand-alone MA on a full-time or part-time basis. 
The En-Route Masters in Anthropology
Students who matriculate into our PhD program are invited to claim an "en-route" MA degree once they have completed all the requirements for the stand-alone MA degree, usually during their second year. Those wishing to continue on to the PhD degree must choose the Critical Review Essay (rather than the Comprehensive Exam).
The Masters Promotion in Anthropology
UVA undergraduates may consider applying to transition directly from their undergraduate studies to the Masters program in Anthropology. Interested students are encouraged to plan carefully with their advisors as early as possible in their undergraduate careers, ideally in their 3rd year, to take full advantage of the program.
For a full description of the MA requirements and various pathways, please see our MA Program Description.
If you have questions please contact our Director of Graduate Studies or our Director of Graduate Admissions.
How to Apply
Image
FALL 2024 Admissions Update
Please note, the Department of Anthropology is now operating on a biannual admissions cycle, which means that we will not be accepting applications to any of our graduate prorams in Fall of 2022. We will begin accepting applications for our next round of admissions in Fall of 2023 (for Fall 2024 matriculation). If you have any questions, please feel free to be in touch with our Director of Graduate Admissions.
We anticipate that the next round of applications will be due 15 December 2023 (for studies beginning Fall 2024). All applications must be submitted online through the Graduate School of Arts and Sciences' admission system, accessible from the homepage of the Graduate School of Arts and Sciences (hover over the Admissions menu link).
The application form requires you to specify whether you are applying to the PhD or the MA degree track, and we require a statement of purpose, three recommendation letters, and a writing sample. The remaining application materials include the application form, fee, and transcripts. (We no longer require GRE scores). International students from non-English-speaking countries must also provide TOEFL or IELTS scores. The Graduate School asks applicants to upload unofficial transcripts when applying; applicants who are offered admission to our graduate program will then be asked to provide official copies of all transcripts.
For more information on the required application materials, please see the Anthropology Admissions FAQs as well as the Requirements Page on the Graduate School of Arts and Sciences' admissions site.
Interdisciplinary Doctoral Fellowship
The Graduate School is featuring various research clusters as part of the Interdisciplinary Doctoral Fellowship program.  Those relevant for anthropology applicants include:
Environmental Justice
Indigenous Studies
Race and Inequality in Higher Education
Precise Medicine
The program includes a set of benefits, including annual fellowship enhancement funds.
For more information about this exciting opportunity follow this link: Interdisciplinary Doctoral Fellowship. 
Bridge to the Doctorate Program
As part of our commitment to diversifying Anthropology, the department will also encourage underrepresented and minority students interested in pursuing a doctorate degree in Anthropology to apply to the Graduate School of Arts & Sciences Bridge to the Doctorate Fellows Program for Fall 2024 enrollment.
The Program will support post-baccalaureate students from groups that are underrepresented in Anthropology and who have not had sufficient training and research experiences to prepare them for admission to a doctoral program. Through the Bridge Program, we will provide students an opportunity to prepare for admission to a graduate program in archaeological, linguistic, or socio-cultural Anthropology.
The Program provides two full years of fellowship support for students to enroll in a combination of courses, supervised research, and UVA's intensive graduate student professional development curriculum known as "PhD Plus." There are no teaching responsibilities.
Applicants who would like additional information regarding this program are welcome to contact Sylvia Tidey, the Faculty Liaison for Anthropology, as well as Jasmine Crenshaw, Director of Diversity Programs in the Office of Graduate and Postdoctoral Affairs, Keisha John, Associate Dean for Diversity and Inclusion, or China Scherz, Associate Dean for Graduate Programs.
For full information about the admissions process, please see the Graduate School's admissions information pages, accessed from the homepage of the Graduate School of Arts and Sciences (hover over the Admissions menu link).
For more information about this program follow this link: Bridge Fellows Program.
Waiver of Graduate Program Application Fee
The Office of Graduate and Postdoctoral Diversity Programs is pleased to offer application fee waivers to US citizens and US permanent residents who demonstrate a financial hardship. Click here to find more information about this opportunity. (If you are an international student with a demonstrated financial hardship, click here.)